2015 has been many things to many people. Kanye-less, Frank Ocean sophomore-lacking, 'disruptor brands,' gentrification, #Blacklivesmatter, Jeremy Corbyn, The Weeknd as off-beat popstar, Pig-gate, terrorism, refugees, Kendrick Lamar, Caitlin Jenner, John Lewis Christmas ads, Ed Sheeran, Hotline Bling, Adele returns- I'll stop before this becomes a Sgt. Pepper's cover. If there was a sentiment to encapsulate the spirit of the year it would be that people seem to generally give a fuck about stuff and high and low culture has merged into one- just 'culture.' The access that the Internet allows us to all forms of culture for free which has been facilitated and broadcast by popular news and 'content' outlets on social media has created a general public who are both more culturally rounded and aware and simultaneously more clueless than ever thanks to the overload of information which is neither fully verifiable nor fully disprovable.  It's BLM activists who listen to Taylor Swift, English lit students you thought were cool sharing thinkpieces about the Hunger Games gender body politics, Starbucks cups being held by anti-capitalists at anti austerity marches, Where are U now?, House Every Weekend, fashionistas in Reebok Classics- it's confusing and inconsistent, maybe even hypocritical- but it's now.:
THE BEST
Creativity fights back
The discourse around advertising in 2014 was dominated by crap pieces in The Drum about the advent of data, 'Big Data' and 'Math Men.' It was interesting for about five minutes before becoming, like Oasis' output since Be There Now , repetitive, uninteresting and culpable for inspiring many talentless dickheads.
2015 saw creativity become cool again. It turned out that the medium of TV in fact wasn't dead and that you couldn't just throw a few numbers at a Creative team and expect them to paint something pretty over them. There was a resurgence of first class creative work that didn't look like it had been graphed, charted and infographic'd to death. Nils Leonard crashed into Adland's collective consciousness as the Kanye of advertising with Grey London returning to the fore as a culturally switched-on, innovative and iconoclastic creative power house. Adam & Eve DDB continued to produce the kind of distinctive work that could take its place alongside actual entertainment content such as TV shows, films and music videos. Danny Brooke Taylor's creative stewardship ensured that Lucky Generals went from the plucky youngster to an irreverent yet maturing agency really hitting its stride with excellent work produced for Pot Noodle, Paddy Power and Hostelworld whilst Caroline Pay and Nick Gill can be proud of the stunning work they have done for Audi.
With the strategic and cultural midwifery of high calibrate planners such as Saatchi & Saatchi's Richard Huntington, Grey's Leo Rayman and Craig Mawdsley & Bridget Angear at AMV BBDO and top level suits such as Wieden & Kennedy's highly cultured Neil Christie, the brilliant provocateur Magnus Djaba of Saatchi & Saatchi Fallon fame, James Murphy of A&E with his stellar levels of commitment to his slippery Volkswagen client and Sarah Golding leading a resurgent CHI & Partners, we can also be thankful for the business leadership, strong analytical practice and talent fostering that drives agencies t do their best work. The 'Math Men' were largely pushed to the side this year despite some loud posturing by David Jones with his new 'Brand Tech' group You & Mr Jones and the odd creativity vs data think piece in Campaign, and were largely drawn into the debate alongside media agencies about Ad Blocking.
Oh and it's also won mentioning Ian Leslie's fantastic piece about creativity and the centrality of brilliant TV ads to the marketing mix in the FT called How the Mad Men Lost the Plot.
Rap gets weird/Pop gets cool/Dance gets broader
2015 has been a fascinating year in music. The Weeeknd now plays shows where fans will be hearing Siouxsie and the Banshees samples one minute and be singing get along to an Ed Sheeran collaboration the next, Justin Bieber is now more likely to be played at a gathering of twenty something grime and house aficionados as they roll zoots and bosh MDMA than at a 12 year old's birthday part, feminist veterans debate Taylor Swift, Young Thug has been donning tutus one minute and apparently plotting to assassinate Lil Wayne the next, Kendrick Lamar dominated critical discourse with his alt-jazz infused social commentary on To Pimp a Butterfly and Drake captured everyone's attention by dancing like someone's uncle in what became one of the biggest music videos of the year.
One of the most exciting things was Grime's resurgence which saw Skepta rub shoulders with everyone from Drake and Kanye to Earl Sweatshirt, Jamie XX and ASAP Mob, Stormzy began to look like the next up for crossover success, JME's Integrity album was a solid effort with the excellent 'Man Don't Care' as Giggs- assisted lead single, Novelist kept it Avant Garde with the Mumdance produced bangers 'Take Time' and 'One Sec', Wiley was honoured at his old school in Bow with a commemorative plaque and Chip reminded us why he's worth taking seriously with his Fire in the Booth, Believe and Achieve EP and strong responses to Tinie Tempah and Bugzy Malone.
Dance music also saw some interesting developments as PC Music continued to confuse, excite, irritate and amaze whilst entering in to partnership with Colombia Records. SOPHIE released the high octane Product EP which mixed hyper-pop and experimental in a novel way whilst Danny L Harle's Broken Flowers received a luxury refix on the new EP of the same name. Whilst some view Dance music as one of the last remaining bastions of music snobbery there were some important figures in the scene who have been subverting  the purist status quo and challenging perceptions of taste . Hudson Mohawke's Lantern was a roaring success in allowing the artist to reconnect with his roots whilst simultaneously exploring new territory. The explosive 'Very First Breath' makes whiny power-pop sound triumphant and melancholy at the same time whilst 'Scud Books' digs into the artist's signature stadium-trap aesthetic but adds in a kitsch pop-friendly synth riff. Rustie, another Scottish power-trap auter managed to repurpose his Trance and Happy Hardcore influences into something very relevant with his EVENIFUDONTBELIEVE album. Jamie XX had a brilliant year seeing his long-awaited solo project In Colour which repackaged 20 years of UK club culture for the Instagram generation and scored a summer hit with the Young Thug and Popcaan assisted Good Times. Diplo continued to act as the bridge between club music's innovative underground and the pop mainstream dabbling in everything from the seminal Bieber-assisted Where are U now? to the summer smash Lean on with Major Lazer and MØ whilst working alongside outliers such as SOPHIE and A.G. Cook. Elsewhere we saw electronic experimentalist and Kanye-collaborator Evian Christ take Trance to the ICA with his much lauded Trance War exhibition and Skrillex finally managed to gain some critical acclaim for his work with Justin Bieber and spectacular live events.
Mad Men's swansong
Although it definitely did not satiate everyone, I found that the Mad Men ending was everything that I could have asked for. It was neither crowd-pleasingly conclusive nor ironic and cold; it was open-ended but you got some idea of where the narrative was headed once the characters ceased to exist on our screens. True to form Matt Weiner and his excellent team of writers made sure to produce something that didn't exist in a historical vacuum. Don Draper's closing hilltop meditation scene which may or may not have led him to go on to create the subsequently shown iconic I'd like to teach the world to sing Coca Cola ad- arguably the creative genesis of brand-based advertising- signals the beginning of the cultural shift from a more collectivist and ordered understanding of society to the dawn of individualist neo-liberalism where brands and products begin to exist as components of the individual's unique identity and self-expression. As noted in a previous piece, Adam Curtis does a great job in identifying the hippy and New Age movements as an expression of individualism that birthed the small-government, supply side and self-sufficient economic culture promoted by Reagan and Thatcher that still predominates today in his documentary The Century of the self. Wiener's use of a spiritual retreat as the narrative endpoint for the protagonist seems like a nod to this understanding of the late 20th and early 21st century.
The reason why these discourses seem so relevant has been seen across pop culture and (more downstream) society, politics, conflict and economics all year. Identity and self definition has seemingly been at the centre of everything; one can cite phenomena as diverse as Caitlin Jenner, Rachel Dolezal, Donald Trump's jingoistic understanding of what it is to be American, the Black Lives Matter movement, the continued rise of the far-right in Europe and the Islamic State in the Levant, the conspicuous presence of selfies facilitated by ever-growing social media platforms such as Instagram, Facebook and Twitter, changing attitudes to gender and sexuality- the list could be an essay in itself. These are a wide array of positive, negative and necessary happenings but what they all have in common is their rooting in today's existential grey areas- the desire to craft one's own unique identity whilst wanting to be a part of something in a world that is more connected than ever whilst paradoxically increasingly isolated. In placing Don Draper, the brilliant manipulator of human anxiety, on top of a cliff edge with a bunch of mentally conflicted and exasperated 'modern' individuals before cutting to that infamous Coca Cola ad, Weiner gave us an ending which emphasized the cultural vitalness of the whole Mad Men series.
Craig David and Kurupt FM
I'm usually weary of anything resembling starry-eyed nostalgia but Craig David's return this year seemed like the righting of a cultural wrong. Like many black and asian artists in the UK Craig's career was subjected to immature ridicule, miscategorization and ill-informed interference by record companies. When the brilliant Kurupt FM crew from the BBC Three/iPlayer cult hit People Just Do Nothing brought him into their Mistajam #Sixtyminuteslive session to perform his early noughties smash 'Fill Me In' over Jack U's Where are U Now it began to seem like the stage was set for his return. Following the critical re-appraisal of R&B over the last few years and the resurgence of Garage, UK Funky, Deep House and Jungle into UK club culture, it appears that as this piece in Noisey suggests is the perfect time for the R n' G veteran to reclaim his place in the UK's homegrown dance music scene.
THE WORST
Adland's diversity lack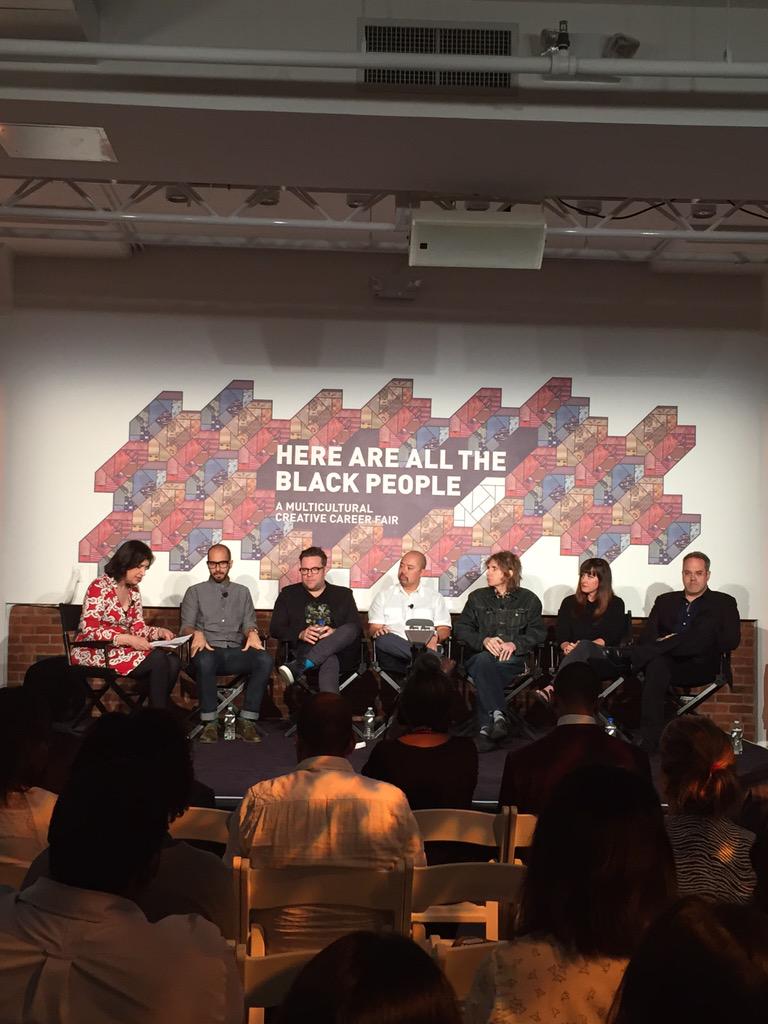 Despite some positive noises being made about the need for women to be better represented at all levels in the advertising industry, mostly thanks to the tireless work of top female ad people like Cindy Gallop with the 3% Conference and the WACL (Women in Advertising and Communications in London), there has been little improvement in making the Ad industry more diverse as a whole. Barely anyone is talking about the obvious domination of the industry by white middle class types both male and female- ethnicity and socioeconomic background features very little in any discussion that does take place.
It would be easy to pick out events and scrutinize happenings such as the incredibly classist 'Benefits' flyer that circulated at Iris Worldwide in London (above), this hilariously misjudged Robert Dyas spot or the Advertising Week panel called 'Here are all the black people in advertising' which was seemingly chaired by a bunch of white people (although as the link points out it's more complicated than appears) but the real root of the problem is the lack of interest amongst the majority of the decision makers in the industry in reaching out to communities outside of their own. Our 'creative industries' which some might assume are very liberal and open to people of all backgrounds are in fact closed off to most people outside of the ABC1 bubble. One only has to look at the lack of outreach programmes aimed at youngsters from less privileged backgrounds, the extortionate subscription fees for industry publications and events and the way in which most agencies hide their job postings from any commonly accessible outlets. The whole things stinks of elitism and for all of the talk of attracting great young talent the system appears to be built to keep a certain types of people out. The whole ad industry is a lot poorer for it as powerful, evocative and effective campaigns that connect to a wider audience require a range of different inputs be they White, Black, Asian, Male, Female, Gay or Straight.
Guitar Music
The famously regressive online community in the UK was most upset about Kanye West performing at Glastonbury this year. How dare this uppity Black bloke be the Saturday night headliner at Glastonbury, proclaiming himself to be the 'Greatest Living Rockstar' without there being a guitar in sight!? Someone started a petition, Brian McFadden and Louise Thompson got involved, your smelly 15 year old cousin from Dudley posted a video of Dave Grohl performing with a broken leg along or a meme of him laughing or something, you know how these things tend to go…
The real issue and inconvenient truth here however is the simple fact that England and the world as a whole seriously lacks in any compelling guitar bands. I'm not yet ready to deem guitar music/rock n' roll as completely redundant but it's hard to see who else could have convincingly filled the headline slot or in fact be deemed as a 'rockstar' in this day and age. I mean who really is Dave Grohl? the former drummer in a seminal band whose importance hinged on the songwriting and general character of the now deceased frontman? A cuddly mascot for a bygone era of music? What about Matt Bellamy? Well even die-hard Muse fans couldn't stomach their latest release. Do we really have to dig up another leather clad metal outfit from the eighties or some poorly aged wig-rocker? The Libertines can provide a cheery fifty minutes of throwback singalong fun but it's hard to claim that Pete and Carl's druggy Edwardian/Victorian lit-expired poncing-about would be an ideal show of rock n' roll's relevance today.Foals had some approving nods from critics and old indie heads this year but like the more interesting Everything Everything who emerged this year with the impressive Get to Heaven, they don't quite hold enough weight for the number one slot.  You also shouldn't listen to those ex-NME types who seem like they've managed to TUPE (Google it!) over to Noisey when they tell you that Sleaford Mods are worth your time.
Tyler, the Creator banned from UK
There are plenty of reasoned debates to be had about how we should receive and interpret Tyler, the Creator's lyrics. Concerns that some of the lyrics in his earlier material might be harmful to women in the long term by normalizing and trivializing rape seem perfectly reasonable and should be discussed at length. There do however seem to be other forces at play in this case of kneejerk censorship exercised by Home Secretary Theresa May as Joe Muggs stated in his piece for The Guardian on the subject.
Whether the move to bar Tyler, the Creator was meant as a subtle nod to Middle England or a concession to our active feminist movement (which has done great work this year- see the newly formed Women's Equality Party) is unclear but there's a nasty racial undercurrent that we can see when we hold these judgments up to the light. Artists such as Tyler, Chris Brown and Snoop 'Kick this evil bastard out' Dogg/Lion have faced a much higher bar when touring across venues in countries like the UK, Australia and Canada than artists such as Ozzy Osbourne, Cannibal Corpse and even The Decemberists all of whom have participated in either lyrical of real life misogyny and abuse of women.
There is also a point to be made about the context of Tyler, the Creator's lyrical content. The lyrics in question which mainly feature in his early releases Bastard and Goblin are often uttered by a conflicted and disturbed alter-ego and are clearly not a reflection of the artist's own views. Whilst these incidents of censorship are often presented as being a progressive must by responsible authorities more often than not they are at best a flimsy band-aid for the problem of systematic injustice and at worst a manifestation of a more sinister agenda.
Airbnb 'is mankind?'
Oh man this one was bad! Despite simultaneously pricking people's conscience and making their lives easier- a very lucrative brand position to occupy in the information age- the folks at Air B n' B apparently see themselves as the champions of human connectivity, empathy and social justice. TBWA are a great agency with a strong legacy but they certainly misfired here in an overblown and highly pretentious campaign which wasn't helped by a smarmy poster campaign in San Francisco addressing the recent ruling that the company had to pay hotel tax. For some reason they assumed that residents of America's most left-leaning city would want to join in with their libertarian circle-jerk. Whilst I have no way of knowing how the company's communications fuck ups have affected sales and growth this year- I do know that the health of the brand is vital to a startup that is starting to move into maturity.